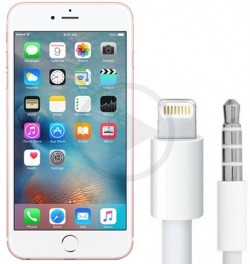 For some time now there have been these rumors that the iPhone 7 will do away with the headphone jack and replace it with the all purpose Lightning connector. The Lightning connector is the Apple port that is the all purpose connector for all functions like charging, headphones, usb and etc. In recent weeks the rumor has found sources in Japanese website Mac Otakara, who report that Apple is planning on the step of removal of the 3.5mm headphone jack.
More Asian sites from China named Anzhuo.cn and Wei Feng have cited from the suppy chain sources that confirm the rumor.
The sites claim that Apple will have their own bluetooth headphones to compensate for the headphone jack. But it would be wise to wait for more sources to certify this news.


If in case the rumors are true then the decision will cause much controversy as it will be difficult for a user to listen to music along with charging the device. A twitter poll resulted in 60% percent people voting for the rumor to be untrue and an undesirable move from Apple if this is true.  This goes on to prove that people prefer headphone jacks over the all in one Lightning connector.