At CES today, the accessory manufacturing company Actionproof has made an announcement of the new "Bozon" Apple Watch charging dock. It has been priced at $40 and it has a silicone finish which is in continuation of Actionproof's traditionally highly protective third-party Apple product accessories.


The Actionproof co-founder Ivo Guiliani, said at the event,"We're confident the Bozon has solved the many issues of the other Apple Watch charging docks currently on the market."
The Bozon can be used to charge all the Apple Watch models in both vertical and horizontal orientations. Bozon has made fine touches to the product which makes it cord management friendly.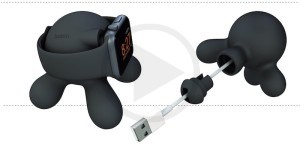 Those interested in the product can make way to the Actionproof site which shall start selling the Bozon through Amazon.