To most of us, it is known that Microsoft's business such as Windows licensing, Xbox, Surface PCs and phones reports dropping revenues year over year.
Though their Surface revenues increased 9 percent over the year-ago in fiscal Q4 ($965 million vs. $888 million), but it is sequentially lower than $1.1 billion collected in April.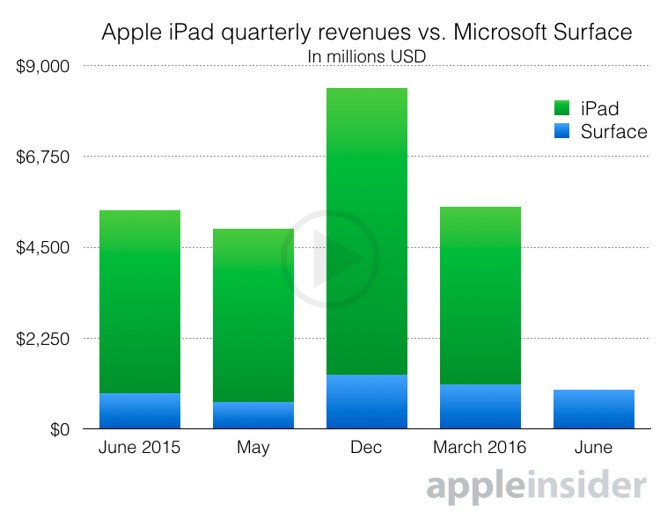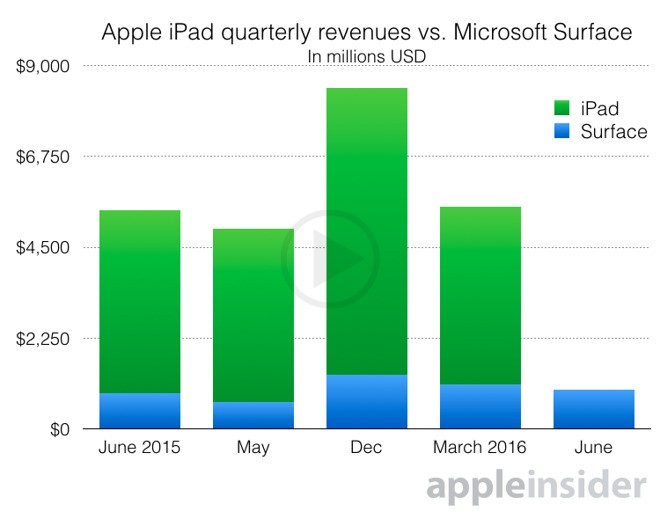 Though some colorful forecasts claim that Surface would soon outperform Apple iPad sales, but it appears that Surface itself is stuck in quarterly sales of 1 million units and less. Though the Apple's sales report on tablet and Mac shows big declines compared to peak sales in 2014. But the company is selling ten times more tablets compared to Microsoft each quarter over the year. Even the new iPad Pro have beaten Microsoft's Surface over the past two quarters
While App maintains a pool of buyers in their own retail stores, but Microsoft finds tough time generating a similar level of interest for Surface. Microsoft stores remain empty throughout the year unless they organize any event.
Even the Microsoft's Intelligent Cloud segment that includes the Windows Server and Azure, reports a revenue bag of $6.7 billion, which is a clear increase of 7 percent, but operating income has a steep 17% decline annually.
While Microsoft Cloud segment is the only bright spot in Microsoft' stressed revenue stream, so Apple has one of the strong reason to focus their attention on their own Services segment. And this focus has helped them to grow their Services in last quarter by 20 percent and make it a whopping $6 billion quarterly revenue source.
Microsoft along with their Services segment is also making good business by selling Office Suite, which reports 5 percent annual revenue growth. But one problem, which is common to both Apple and Microsoft, is the strong U.S. dollar that reduces the global revenues and profits of both the companies despite their own identity.