It seems to be that the changes that Apple has made to the iOS10 is very cosmetic. Right from stickers galore, scrawls that are handwritten across videos and photos, full screen fireworks as well as Giant emojis, it seems to be that the features that have been included are taken directly from various kinds of messaging apps such as Line, Snapchat, and Facebook Messenger etc.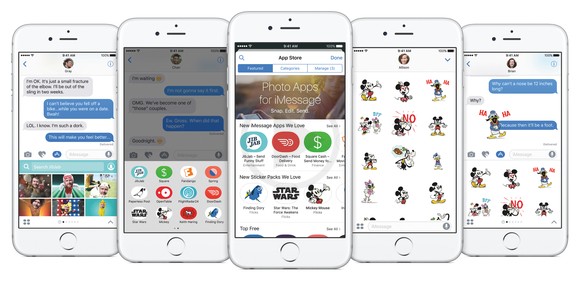 In regards to the Messages, the behind the scenes change is said to be the biggest ones. WeChat and Facebook Messenger is said to be storming the globe, however, the decision of Apple in regards to making iMessage accessible to developers, clearly sends out the necessary message that the company wants to give out in regards to the apps for messaging.
The demo that took place in regards to the iOS 10 of Apple during the keynote of the Worldwide Developers Conference showed the entire feature which has newly been included. However the Software engineering Senior Vice President of Apple, Craig Federighi had devoted a lot of his time towards the Messages app and the changes that come along with it. For those, who have used the messaging app for some time now, will feel that it is lot more familiar. There are a few Apple signature styles that have been given to the Message apps of iOS 10. This includes the feature of the invisible ink which is said to blur the texts and photos; there is a lot of familiarity with the improvements that have been made.
The decision of Apple to make the iMessage a significant platform than the various effects which are similar to Snapchat has seemed to garner the attention of the lion. This is because now a person can enrich their messages with the help of third party apps without having to leave the app they use for Messaging.