To connect to the online version of Microsoft SharePoint, the 2013 and 2016 versions of SharePoint Server or even the hybrid environment, you would need to download the official app of Microsoft SharePoint. In 2001, the app was originally launched it requires the subscription of Office 365. Even included is the SharePoint Server on‐premises and the SharePoint Online.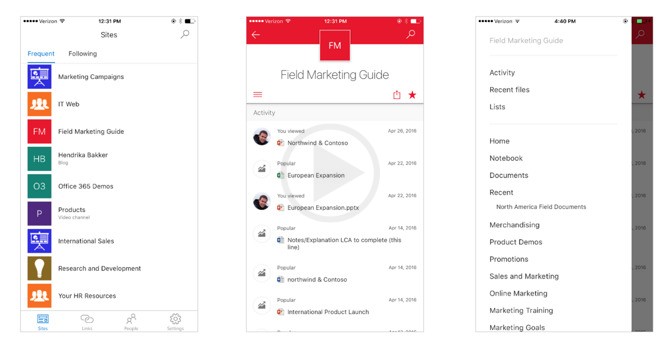 SharePoint was implemented as a service by Microsoft Office 365 so that for smaller teams, the configuration could be easy. In larger business, the common thing that you will find is deployment on site. Even in terms of support and hardware, the requirement is pretty significant in order for the implementation.
In comparison to the desktop version, the app's present version does not have all the features in it and the popular features of the tools that are there on Microsoft Suit are implemented instead. There is a tab called 'Sites' that is within the app, in this tab, all the frequently visited sites assets and sites that user goes to. The person can also go ahead and share it with others also.
The feature called Links is the place where admin‐curated portals and sites are present. There is another tab called 'People' provides the necessary insights to the other system users of the company. In the app, presently, the administrative management that can be performed is very limited. The Cross company announcements and news support will be added by Microsoft later on in the year. In order for the app of Microsoft SharePoint to run in needs a device that runs on the iOS 8 and above OS versions. The iOS version of SharePoint which is free has been launched so that various kinds of collaboration can be done. This suit is specially designed so that the inter‐office collaboration and communication can be on the go always.