Eight new vehicles of Hyundai now support the CarPlay thanks to the recent update that was released by the company in regards to the software. This would include the models Tucson (2016), Genesis Sedan (2015 and 2016), Santé Fe (2017), Santa Fe Sport ( 2017), Non hybrid Sonata ( 2015 and 2016), Elantra GT (2016). The previously announced models of the company which supported the CarPlay included the IONIQ (2017), Elantra (2017), and Sonata (2016).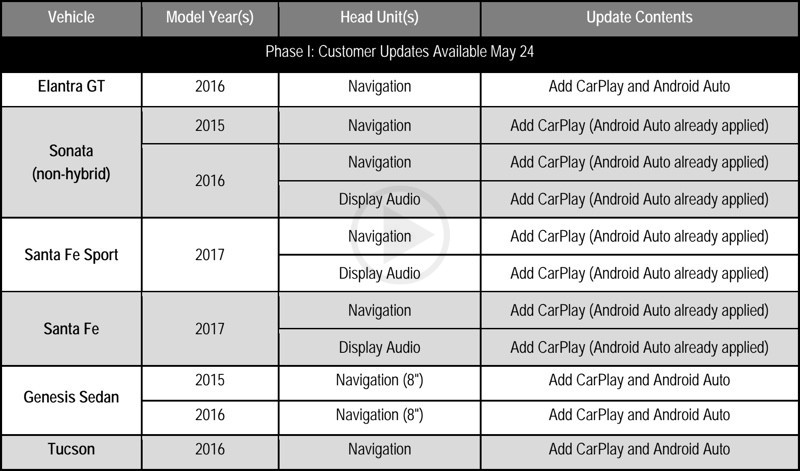 Though the official announcement has not been released by Hyundai however a notice was sent to its dealers on May 19th pertaining to the update and was the availability of the update as per the information bi en by the dealers was said to be on May 24th. Hyundai Owners who have the vehicles which are eligible for the CarPlay update can go ahead and download it from the official website of the company and encouragement is being made to go through the installation process by them. In order to download the update, the user would need a PC or Mac along with a slot for the SD card or a card reader that can external to download and transfer the software into the in dash system that is present in the vehicle. The download time for the software could range from 25 minutes if is for the Display Audio and for Navigation it can be around to 3 hours just in case the update is required.
In order for the CarPlay to be rolled out for the new vehicles, it has taken quite some time, however now there are various vehicles of 2016 and 2017 lineup which has the support for CarPlay and the list is said to be maintained by Apple on their website so that people can get to know the different models that support this particular feature as well as check out for any or all updates.