Last year when Apple had made the official announcement for their iPhone 6s and 6s Plus, they had also announced about the design of a new program which encouraged users to consider upgrading their iDevices every year instead of the two year cycle which was the traditional approach. Only the customers who shopped in Apple Stores were eligible for the iPhone Upgrade Program. However, now the advantage of this program can also be taken to Apple customers who shop online.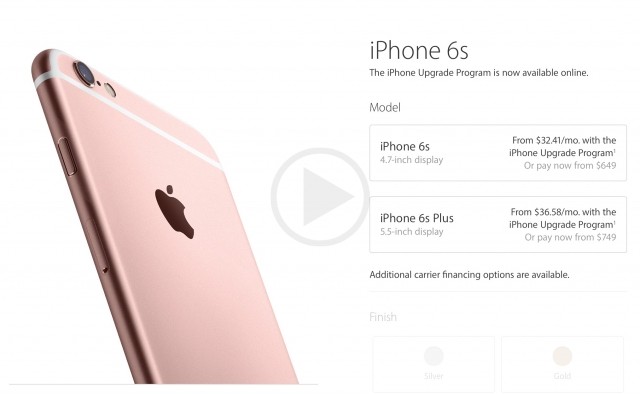 Starting from now, iPhones will now be brought by the company from the official website, alongside the traditional outright purchase option, contract and carrier installment, the users can also get to see the new options. The installment pricing and the iPhone Upgrade Program is something that can be seen on the top of the list. The iPhone Upgrade Program process is a default choice now.
As per the Program, for the 16 GB 6s iPhone, the monthly price starts from $32.41, the 16GB iPhone 6s plus monthly prices at $26.58. Based on the storage capacity that the person chooses, the increase of prices can be seen. Last September when the Upgrade Program had been launched it could be seen that the program did not offer a lot of savings in comparison to upgrade program that is offered by carrier companies, however there were a few advantages to the program. The biggest advantage is that the Apple Care+ service protection is given to the user this includes a monthly price. The Apple Care+ also gives you coverage in case of any incident due to accidental damage.
A person can now go ahead and go to the online store of Apple to find out about how the iPhone Upgrade Program can be used if you want to buy the iPhone 6s online. There are various other benefits that come along when you buy the Phone6 from the website of the company.