It has been around 4 months since the iOS 9 debuted for installation, Apple has conclusive stats that show that almost 75 percent of all active iOS devices have the new iOS 9 as their operating system. The stats are available for reading on the Apple Store support page. To the present date the conversion rate of 75% is quite high, that too in such a short interval of time.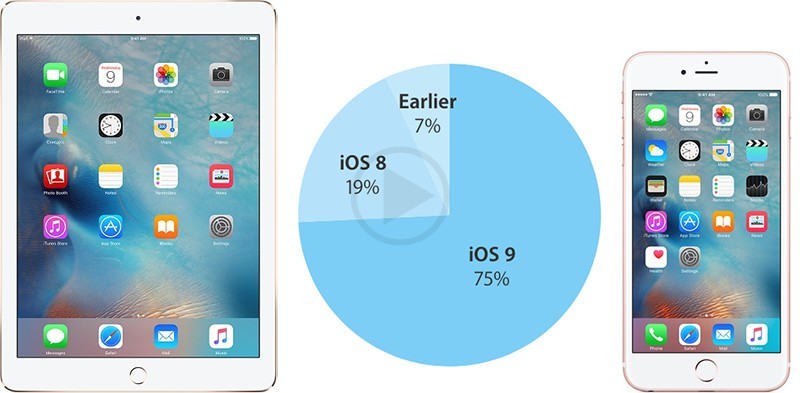 In the last month Apple's iOS 9 rise has been amazing. It has risen from a 71 percent adoption rate to a milestone 75% adoption rate. The rates in the previous versions of iOS like the iOS 8 and the iOS 7 have seen a sharp decline with 19% percent of active users still using iOS 8 while a meagre 7% are still using iOS 7. The rate of adoption for iOS 9 has comprehensively beaten the adoption rate for iOS 8. After a four month period right after the launch, the adoption rate for iOS 8 was 68%, while in the same interval iOS 7 saw a huge adoption rate of 79%. At this pace the iOS 9 may have a chance at outshining the iO7 in adoption statistics, after having already beated the iOS 8 by a decent margin.
The iOS set the record for the fastest iOS adoption after it had an adoption rate of 50% active iOS devices. The operating system was adjudged the most downloaded software than any other software release in Apple's long history. This latest installation adoption was following the launch of the iOS 9.2, on the 8th of December. This installation focused on bringing a large number of bug fixes along with enhancements in the Mail, Apple Music and the iBooks applications.This adoption rate might be boosted by a newer release that will happen in the coming months, the release will be of the iOS 9.3, which shall have new features in it. At present this new release is under beta­testing.
The new update, iOS 9.3, shall be one of the biggest updates to iOS yet. The new features in the OS will include a "Night Shift mode", a new "Quick Actions", and several improvements to apps like Apple News, Health, Notes and also CarPlay.