The travel and feel of the letters while we type using the keyboard is something that plays a vital role in our productivity. Apart from that even the processor speed and screen size also contributes equally. The same is also applicable when it comes to our devices which are touch screen, third party developers as well as iOS developers are coming up with various kinds of keyboard options which can make the typing experience a lot better.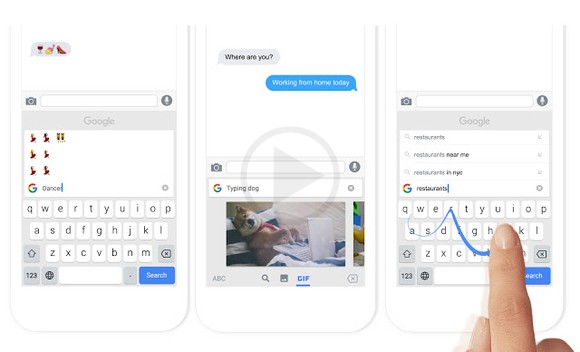 There are various kinds of keyboard apps that make different claims in regards to the fact that their app will help in improving, smartening and speed up the Quick Type Keyboard of Apple. Be it typing with just a single hand or even typing fast or adding a design that is really funky, there are various options that are available. A few of the biggest competitors of Apple that can be seen are as follows.
Winner: GBoard
The fact that an iOS keyboard has been released by Google is said to be fairly inevitable. We all know that there are various utilities and tools that have been proliferated by Google in the App Store, h0wever when it comes to the iOS front; the GBoard which is said to be a universal and free app is something that not only feels but also looks right for your iPhone.
Runner‐Up: Word Flow
In regards to the Strategy of Windows Phone, Microsoft may have given up however in regards to the game of iOS apps, and then they are stronger than you think. The Word Flow which is purely for iPhone and is free is something that is worth considering.
Giphy Keys (Best for GIFs
Giphy Keys is an app that is specially designed for iPhone and is said to be a free download. There are just two things which hold importance, the insert and find options. This is something which can be really desirable, and has very kinds of options and also provide you with the access to a variety of GIF's.