Apple and Samsung have dominated mobile sales all over the world and these two companies are always competing with each other to emerge as the sole winner. In the U.S. market, Apple is the leading company, but Samsung is not far behind. According to the recent report published by Parks Associates, the other smartphone manufacturers are not even close to Apple in terms of market share. Samsung's market share is 31% which is just 9% less than Apple, so the completion is steep. Right from the beginning, Samsung always introduced the best products in the market and they were suitable for all income groups. Apple on the other hand relied on their brand value which gave them loyal customers. Smartphone manufacturer LG occupies a mere 10% market share and they have a lot of catching up to do.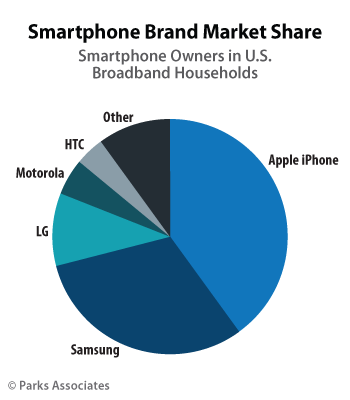 The war between Google's Android and Apple's iOS has been the highlight of the modern tech world. Though Apple is doing well in USA, it still needs to analyze its performance in the other established markets. Numerous manufacturers are coming in the forefront, with handsets which has amazing functionality. Apple needs to focus on the unique aspects of its products and increase the revenue accordingly. Among the various Android OEMs, Samsung is the market leader. They have dominated other companies like LG, HTC, etc. and aims to beat Apple's figures in the near future. Manufacturers like OnePlus, Huawei are new in the market but they have been doing significantly well recently. Their market share is same as that of LG, but it will hopefully go up very soon.
Interestingly, Android users occupy a massive 60% and it gives a clear indication that more people are shifting to this platform. The new manufacturers also prefer Android mainly because of its cost‐effectiveness. Apple can dominate the broadband households but serious innovations are needed to stay at the top. What about the global scenario? Samsung's figures are highly impressive with a 23.7% global market share, whereas Apple is second with just 13.6%. Huawei, Lenovo and Xiaomi have 7.5%, 5.3% and 5% respectively.