The teardown ritual of the latest Mac Book 12″ of Apple is being done by iFixit. The new device of Apple is on the same grounds as the generations that have been previously released however there are a few components that have been refreshed. There were a few tweaks that were noticed even on the website for the repair guide. The tri‐Wind screw was replaced by apple with the Phillips screw which is more common and is also an advantage when it comes to repairing. In the case's exterior, the Pentalobe screws are still being used.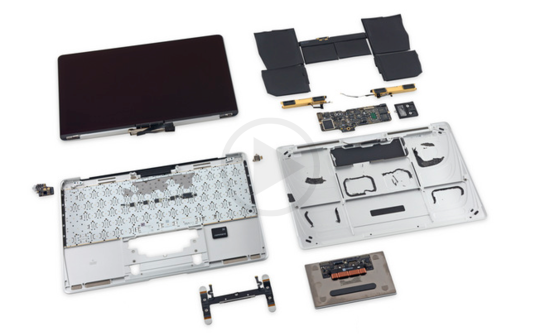 This is one of the positive aspects that has been found the company has done while updating the Mac Book. There were also a few hinges that was noticed by iFixit. The screws had some kind of substance, when a screwdriver is inserted, it disintegrates. As per the website, the speculations are that Apple is putting in the efforts to make screws which will be evident if tampered. On a theoretical note, this is for the company to get to know if any NIY repair or third party has tried to make an attempt to fix it.
The other differences that is notable in comparison with the older generations as be iFixit is theUSB C hardware. It is believed that there have been changes made to the USB‐C hardware. The cable is fixed permanently into the board of the USB making two different components into one unit. The Logic board of the device has various chips that are present. All the best names in the market can be found under the hood, this includes the M3‐6Y30 Processor of Intel to even Toshiba's 128 GB MLC NAND Flash and even Samsung's RAM. The other components are soldered due to the RAM processor. The battery assembly is also glued in as well s the display also has a glass that is fused in.