Predictions have been made by Digitimes Research that for this particular quarter, the sales of iPads could drop down; they further stated that this fall could be the company's lowest drop since 2011.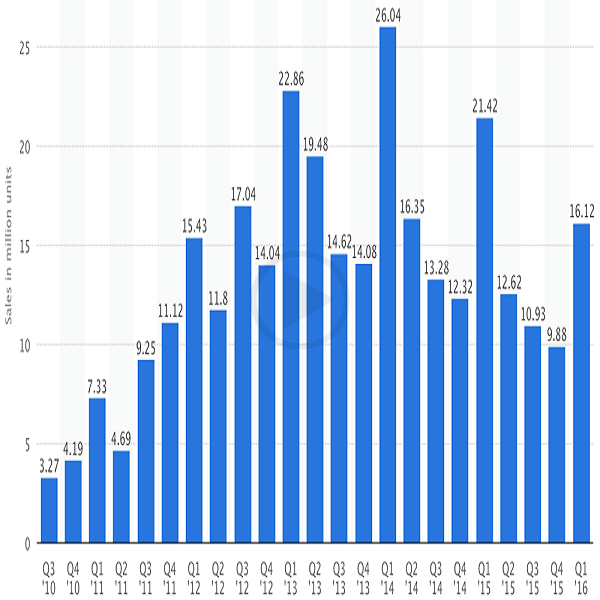 It is said that around 9.8 million iPads are expected to be shipped during the 2016's 1st quarter. This particular quarter is the lows in the history as the sales have dropped to 39.1% quarterly which is a 20% drop annually.
If you look at the forecast, there are a few issues with it. The source's track record is patch for one. Secondly, the claim of the drop being a historic low isn't really correct especially if you include the 1st year or so as per the Statista graph.
However, the graph does highlight some other points. It is believed that the claim that is being made is plausible. If the seasonal effects are taken out, the sales during the holiday quarter will always jump. What is shown though it that there is a decline for 2 solid years.
There has been a decline in 2014 to 16.35 M in comparison to 2013's 19.48 M, while in 2015; it shows a drop to 12.62 M. If the line is projected out into 2016, the 9.8M seems to be feasible.
A lot perspective has to be put for the decline. For Apple, Digitimes gives a 21% tablet market share while Samsung stands at 14% and the rest of the lot have single digit shares. If you look at the range niche product, you will see that iPad Pro is the most. It is believed that it has sold the most number of units within a quarter in comparison to all the units that have ever been sold of Microsoft Surface. Even then, Tim Cook, Apple's CEO still continues to be upbeat about the device's long term prospects.