Apple has updated its investor relations page with new information. It says that the earnings for the first fiscal quarter would be announced on January 26th, 2016. The release shall occur around the traditional time of about 4:30 PM Eastern Time, followed by a conference call.
The report will put focus on the sales of iPhone 6s and the iPhone 6 Pluss, in the past holiday season. It shall also show the stats about how well the iPad Pro is doing, since from the last 4 quarters the iPad sales have taken a hit.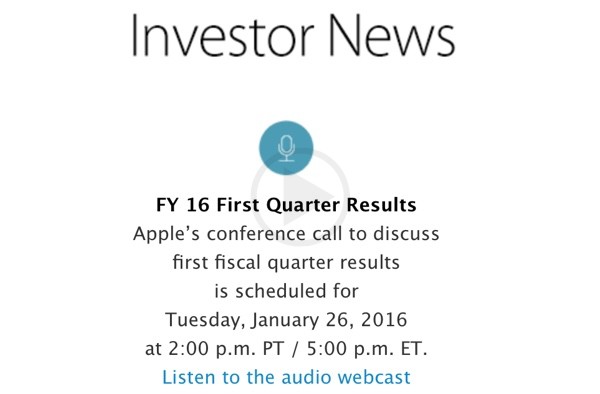 The earning statistics for the 2015 fourth fiscal quarter are as follows – the Reported Revenue is – $51.5 billion
the net quarterly profit is $11.1 billion.
Profit per diluted share stands at – $1.96.
The sale statistics for the quarter are as follows – iPhones sold – 48 million, iPads sold – 9.9 million, Macs sold – 5.7 million Macs.